Image from: Funimation
Det tok en stund, men endelig har jeg blitt bitt av Anime-basillen. Min bestevenn, Annica, har prøvd å få meg til å se Anime, men jeg fant ikke noe spesielt som fanget min oppmerksomhet. Jeg er fortsatt usikker på akkurat hva som er min stil og mine preferanser, men jeg har på følelsen av at min smak i Anime kan sammenlignes med min smak i filmer. Selv om min smak i filmer er ekstremt variert. Siden jeg er en film nerd fra langt tilbake så tenkte jeg at jeg skulle se Miyazaki- filmene, men ikke noe særlig mer. Men så dro jeg på kino for å se Your Name og jeg ble helt besatt. Når det kommer til Anime TV-serier så må jeg si at det var Yuri on Ice! som virkelig slo an for meg. Jeg har en lang liste med Anime filmer og serier jeg vil se på MyAnimeList, så det er nok bare å sette igang.
It's taken a while, but I've finally gotten into Anime for real. I remember my friend Annica tried to get me to watch all kinds of Anime because she's been a fan for a while, but nothing really gripped me and made me want to watch more. I guess I just had to figure out what kind of Anime that would suit me. Even though I don't really know my style or preferences yet. I feel like my taste in Anime can be quite similar to my taste in films, but my film taste is also very varied, so I don't really know what to make of that. Being a film buff I thought I would just get into the Miyazaki films and that would be it, but then I saw Your Name and I feel lie that really changed the game for me. I got into Anime shows through Yuri on Ice!, and this would lead me into a period of binge-watching different Anime shows that I thought would be interesting to me. I still have a lot of Anime on my watchlist on MyAnimeList and I look forward to explore more of the Anime world. 
SOME OF MY FAVOURITES:

DEATH NOTE
En av de mest berømte anime seriene noensinne. Jeg "binget" hele serien siden den lå tilgjengelig på Netflix her i Storbritannia. Jeg likte serien veldig godt, men som de fleste sier så taper den seg litt etter episode 25 og jeg er usikker på om jeg liker slutten. Men serien er definitivt verdt å se på grunnlag av den første delen. Den viser en spennende katt og mus lek, hvor du aldri vet hvem som er katten og hvem some er musen. Det er fantastisk! I tillegg så liker jeg hovedkarakteren Light, selv om han er en skikkelig drittsekk noen ganger.
One of the most famous anime of all time. I just binged all of Death Note because it was available on Netflix here in the UK. I really liked it, but as many people have noted it does drop off a bit after episode 25 and I'm not sure if I like the ending. But the first part of this anime is an amazing cat-and-mouse game where you don't know who's the cat or who's the mouse. It's amazing! Also, I can't help but like Light even though he's a proper arsehole.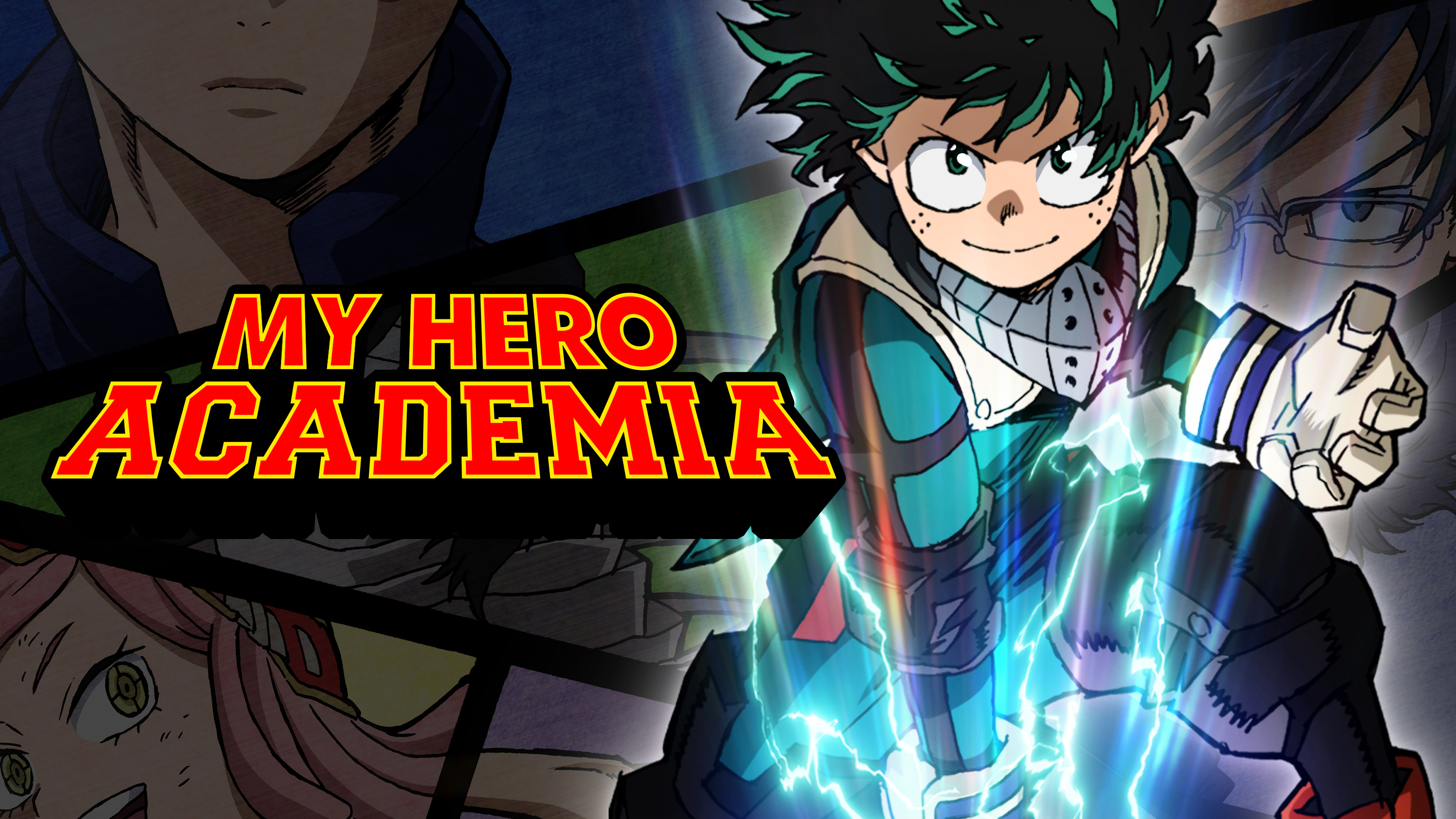 MY HERO ACADEMIA (BOKU NO HERO ACADEMIA):
Denne serien! Herregud! Devindra Hardawar fra Slashfilmcast anbefalte denne serien på podcasten og siden det var dem som anbefalte Your Name tenkte jeg at jeg skulle stole på deres smak innen anime. Jeg må si at de ikke skuffet. Premisset for denne serien kan virke litt kjedelig: en gutt som drømmer om å bli en superhelt og som begynner på en superheltskole. Men jeg kan love at det er mer ved denne serien enn hva førsteinntrykket gir. Jeg måtte gi det 4 episoder for jeg ble helt oppslukt. Det er nok på grunn av karakterene i serien hvor det virker som om mannen bak manga-serien har virkelig tenkt på en historie for alle karakterene vi møter og ikke bare fokuserer på hovedkarakteren. Selv om jeg elsker hovedkarakteren også. Han minner meg veldig som en energisk versjon av Harry Potter. Han er veldig sta, lidenskapelig og VELDIG Gryffindor. Denne serien er også visuelt slående og jeg anbefaler den til alle som liker denne sjangeren anime.
This show! Wow! I was blown away. It was Devindra Hardawar of the Slahfilmcast who recommended it on the podcast and since they were the guys to recommend  me Your Name, I really wanted to check this out. The premise seems a bit basic: a boy who want's to become a superhero and goes to a superhero academy. What this show get's right though is THE CHARACTERS! I feel like the author of the manga has thought out an arch for all of the characters in this show, and not just the main character. I really love the main character Izuku "Deku" Midoriya. I would call him Harry Potter on speed. He's very passionate, loving and VERY Gryffindor. Also this show looks amazing! Would highly recommend. 

YURI ON ICE!

Denne serien er en skikkelig guilty-pleasure for meg. En bekjent av meg sa til meg "Det er så mye anime som gir deg den maskuline fantasien, men denne serien leverer skikkelig på den feminine fantasien". Denne serien har en stor kvinnelig fanskare og har blitt ekstremt populær. Men det er ikke uten grunn. Denne serier har noen fantastiske karakterer, og det er virkelig styrken til denne serien. Den representerer menneskelige relasjoner på en veldig romantisk måte og får deg til å like alle karakterene i serien. De trenger ikke å ha mye drama og action for å fange oppmerksomheten din, de enkle menneskelige følelsene er nok til å få deg engasjert i historien. Serien handler om Kunstløp og jeg visste ikke at dette var noe jeg kunne bli interessert eller engasjert i. Men jeg har til og med sett på litt kunstløp i årets OL. Selv om min favoritt skøyter Yuri Plisetsky ikke er en virkelig Kunstløper. Denne serien er utrolig søt! Se den!
This is such a guilty-pleasure but I can't help but to love it. An acquaintance of mine said "You know, there's so much anime that is a service to the male fantasy so I just love that this anime exists for you girls". And I don't think he's wrong. This show has a huge following of female fans and has become insanely popular. But not without reason. This show has some of the best characters and character relationships I've ever seen depicted on the screen. It has such a big heart and it doesn't need big plot dramas to make you feel something. The simple relationships and competitions between the characters is enough to make this show compelling. Did I mention what it is about? It's about ice skating. I never thought that ice skating would interest me, but I've even caught up with some ice skating in the Olympics this year. Even though it didn't feature my favourite russian skater Yuri Plisetsky. This show is adorable! Watch it!
WATCHING NOW:  ANCIENT MAGUS BRIDE and TOKYO GHOUL:
LagreLagreLagreLagre
LagreLagre
LagreLagre
LagreLagre
LagreLagre
LagreLagre
LagreLagre
LagreLagre
LagreLagre
LagreLagre
LagreLagre
LagreLagre
LagreLagre